Pop-Up Performance for the Public
On April 3rd, 2014, the creative minds at the NW Dance Project took their shows to another level. They performed beautifully at the Newmark Theater in Downtown Portland. They also streamed that show in high definition onto a large white wall at JIVE Software, blocks away from the theater venue.
This was a task that cellular, cable, or DSL couldn't handle. Stephouse Networks had the microwave answer to make this dance project a digital hit.
---
Challenges:
When you video conference with your friends, family, and colleagues, disconnections and interruptions are a common thing. No worries though! Friends, family, and (sometimes) colleagues understand and a simple restart of the video conversation puts everyone back on topic.
Expectations are different with live-streaming events. When it comes to a live show, interruptions are not acceptable. Projecting in high-definition video is also a whole other level of data reliability that typical cable, DSL, and cellular connections have trouble with.
The NW Dance Project needed something more than conventional internet connectivity. They also needed a connection that allowed them to take data from one part of the city to another that wouldn't suffer from data traffic congestion.
The Solution:
Stephouse Networks created a custom microwave link that sent data back and forth between the Newmark Theater, Stephouse Networks' Headquarters, and the projection site near 10th and Burnside. Instead of leaving the video stream at the whim of the general internet connectivity via cable, DSL, or cellular, Stephouse Networks provided a dedicated internet link.
We created a microwave link between the Newmark and our headquarters. From our headquarters, we created a private wireless Access Point (AP) for the NW Dance Project crew to use to project the high-definition content from the Newmark Theater.
This custom, private link allowed the NW Dance Project content to travel from the Newmark Theater over to the projection area without any interruption from competing traffic. If they used conventional internet access, they would have fought for bandwidth amongst other customers.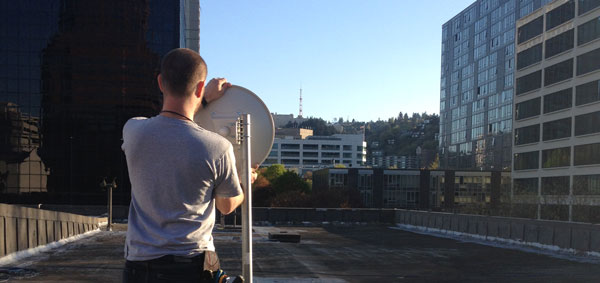 Our microwave setups are rugged and outdoor-ready to withstand Northwest weather conditions. Setups are temporary, non-intrusive to structures, and respect the aesthetic requirements of venues.
This link ensured no loss of data during the NW Dance Project's projection and a crisp, smooth stream of video and audio for the projector in the JIVE Software parking lot.