If we ever decide to audit incoming calls and emails from our community to see what the most commonly asked questions are, you can bet that some of the most frequently asked will involve tips for setting up a home office. We probably won't ever do an audit for privacy reasons, but it has been interesting to see how questions regarding working from home have increased exponentially over the last few years.
A person's work-from-home success has a lot to do with how their workspace is set up, and how they access the Internet when data sharing is a key component.
Having a comfortable, inspiring, and non-distractive space should be a priority. Since you're telecommuting, having solid Internet access is also a must. If your workday comprises of multiple devices, you'll want to make sure you properly network these devices within the home office.
I used to work as a freelance writer in the Portland area. Given the nature of that type of work, I needed a home office that could provide me with uninterrupted, delicious Internet access. Hopefully, I can combine my at-home workspace-creating experience with some Internet access know-how in order to show you some tips for setting up a home office.
A great space is key
Finding a great workspace is mostly a subjective thing. Some people can work on a couch, while others convert the kitchen table into a private executive suite. I prefer a well-lit corner of a nice wood table with plenty of natural light. You might completely disagree. The idea here is to find a space that will optimize your work-from-home setup.
Some people go an unconventional route and don't mind plopping on the floor with all of their work scattered around them. Hey, it's their abode.
The trick is just to find a place that you can tune out distractions. You may also want to keep your work space and your entertainment space separate. There's no specific reason to do this, but sometimes it helps to separate the two. That makes it easier to get into the right mode for when you need to get to work.
Above all though, just seek out a space within it that ensures you get your work done.
It might be a little off-topic, but I enjoy watching Sam Martin's TED Talk about crafting a "manspace," a space for a guy to enjoy. Obviously, this applies to anyone seeking to create a space of their own, whether for work or play. Maybe it'll inspire you to create a space of your own to empower your work-from-home situation.
Bandwidth for work
Let's get into some of the more technical parts of working from home.
In most cases, people work from home because they're in a professional scenario where they can access organizational data remotely. While things like email and chatting might take up very little bandwidth, file transfers and streaming content require a pretty substantial amount of bandwidth at home – and video conferencing takes up even more.
Some work-from-home scenarios may require logging into Virtual Private Networks (VPNs), which can really slow down a person's Internet access speed as they hop from the Internet into a virtual network, and then into private organizational servers.
Even if your organization relies on cloud-based solutions, you still need a decent high-speed Internet connection to make the most of those applications.
Most conventional Internet plans are often set up for higher download rates than upload. While this is great for typical media and content consumption, sending files back to your employer can be tricky if your upload speed is too low. Before you sign on for working from home, be sure that you have enough upload speed to do so successfully.
Call your current provider and check what kinds of actual Internet access speeds you're getting, or talk to a new provider to see what they offer. Check with your organization's IT person to make sure that the speed meets the requirements for accessing organizational data from home. This can save you a lot of frustration if you ensure that you have enough speed to access your work and enough speed to send that work back to your office.
It helps to know exactly how much bandwidth you use, then choose a plan accordingly.
Networking your home for office work
Many people already have a wireless router at home to connect all of their devices to their high-speed Internet. That same router will grant your business devices access to the Internet as well, but the different types of Internet use determine whether or not wireless or a wired connection is the best method to access the web. If you need a refresher as to what that router does, please take a look at this post by one of our Support Technicians.
I
f voice and video conferencing is a huge part of your workday, you'll want to have an Internet connection with a sufficient amount of upload speed along with download speed – not just available upload speed, but actual speed.
Wireless speeds will always be lower than your maximum available speed, so wiring into your router through an Ethernet cable ensures that your Internet connection is uninterrupted during your conversation. Use the same strategy when sending or receiving critical files. Your device will have a less likely chance of encountering network drop or interference issues if you connect your device directly to the router, rather than accessing the Internet wirelessly.
Prioritize
If you work at home with other family members accessing the Internet during your work periods, you'll want to control traffic on your router. Many consumer-level routers have built-in Quality of Service (QoS) controls. These settings prioritize and limit traffic depending on usage type. Some router software will also allow you to prioritize certain types of activities over others.
For instance, if a household wants to prioritize streaming content over gaming, they can set a priority for streaming content to have more bandwidth access over the gaming access. This doesn't mean that gaming can't happen on the network, but just ensures that it doesn't take priority over streaming functions.
Please consult your router manufacturer's manual or website for more detail about QoS.
Head home to get to work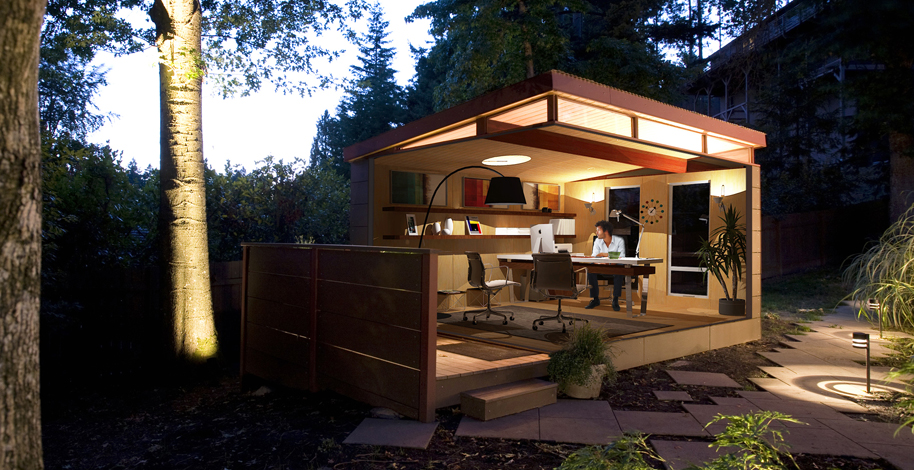 If you're considering working from home, I hope that these tips for setting up a home office help you create a solid workspace where you can enjoy the freedoms of working at your leisure and creating your own schedule. Aside from having a great space to do great work, you'll want to make sure you have enough bandwidth to get the job done, and the network capabilities to use all of the devices that you need.
If I've missed any particulars, benefits, or drawbacks about how to optimize your work-from-home setup, please let me know in the comments below. The goal is to have this article to a nice first stepping stone for anyone considering a telecommunications work scenario.